Salt Lake County Child Custody Attorney
Draper-Based Lawyers Also Serving Utah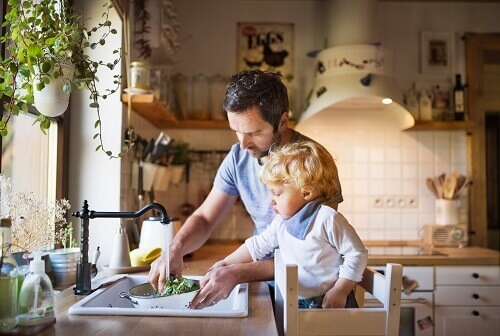 Children are affected in many different ways by the divorce or separation of their parents and the breakup of their family. Kids often feel like their whole world has been turned upside down. It is important to be patient and reassure them that they are loved as you navigate through your divorce and put solid child custody and child support arrangements in place. Because both legal and physical custody should be addressed, you need an experienced child custody attorney in Salt Lake County Utah to help you establish effective child custody and parent time agreement.
If you are facing child custody issues, it is important to have a skilled attorney who understands the ins and outs of Utah's family laws on your side. Eric M. Swinyard & Associates, PLLC, understands Utah's child custody "best interests" standards and how they can affect your case. Get experienced legal advice in Salt Lake County and Utah County from our Draper-based firm.
Call today for your 30-minute consultation: (801) 515-4133.
Types of Child Custody in Utah
Child custody issues in the Beehive State will fall under the broad categories of physical custody and legal custody. The secondary category determines if one or both parents have custody designation. Listed below are Utah's five child custody types:
Sole Legal Custody
Gives one designated parent the authority to make important decisions, including:
Religion
School
Health Care
Child Care
Travel
Sports Participation
Extracurricular Activities
While the other parent or non-custodial parent does not have decision making power, he or she has the right to be informed of these important decisions.
Sole Physical Custody
Sole or primary custody means the child lives with the designated parent and the other parent may be granted child visitation also known as parent time. The standard Salt Lake County child visitation schedule states that the non-custodial parent is allowed minimum visitation (approximately 86 overnight visits per year), including:
Every Other Weekend
One Weekday Evening Each Week
Two Holidays Per Year
Four Weeks During Summer Break
Joint Legal Custody
Allows both parents to make decisions about major issues for their child by working together. A joint or shared legal custody agreement must always include a parenting plan in the divorce decree. If the parents were not married, the parenting plan might be included in a judicial paternity order. The degree must also include a provision describing the process for dispute resolution.
Joint Physical Custody means the child lives with both parents for an equal number of days per year. While the number of days is not specified in Utah, child support begins to be calculated for anything over 111 overnights per year on the required joint custody worksheet.
Split Physical Custody arrangements can be outlined for parents with more than one child if the court determines it is in the best interest of children to live in separate households. Each parent is awarded sole custody or joint legal custody of each of the children.
Once again, consider that family courts in Utah set terms that they believe are in the child's best interests for all custody determinations.
Many factors can go into these determinations, including parental wellness, a child's daily routine, health, and the environment in each home. Learn more information in two sections below.
So whether you are arranging initial custody arrangements or seeking to modify the terms of an existing child custody order, our lawyers can highlight what's most important to your child.
What Age Can a Child Decide Which Parent to Live With in Utah?
A child's preference can sometimes assist the Court in making custody determinations. The Court has wide discretion in whether to consider the child's preference. The child has to be of sufficient age and maturity for the Court to consider their opinion. There is no set age when a child can definitively weigh in on this topic. A child's best interests are best determined by relying on a guardian ad litem or custody evaluator.
Family law attorney Eric Swinyard and his legal team always work with clients to educate them about the law and expectations. These conflicts over custody and visitation rights are consistently best settled out of family court since judges will assess a custody order that may not please either person. At this point, you and your child's future will rest in the hands of outsiders.
How Child Custody is Determined in Salt Lake County
After separation or divorce, both parents are still legally responsible for the care of their children in the state of Utah. A parenting plan within the divorce decree will outline the role of each parent. Utah law considers a number of factors that help determine child custody by following guidelines for the best interest of the child, including:
Parent/Child Bonding
A Child's Emotional, Physical & Psychological Needs
Parental Stability
Each Parents Past & Present Ability to Agree on Shared Decisions
The Willingness of Each Parent to Encourage Visitation
The Level of Participation in Raising the Child Before the Divorce
Each Parent's Geographic Location
Parental Criminal History
The Child's Preference (Based on Age and Maturity Level)
Other Factors Relating to the Best Interest of the Child
Choose an Experienced Child Custody Attorney in Salt Lake County
Our Draper child custody lawyer is a compassionate family attorney who understands that while parents know that divorce is the best thing for everyone involved, the kids need a sense of securing during this difficult time. When a child custody agreement is in place, parents find that their kids are resilient and will quickly adjust to the new arrangements.
Contact our child custody lawyer in Draper UT to schedule your confidential 30-minute consultation and learn about your legal options to protect your child's best interests and your rights as a parent.
Testimonials
Real Clients. Real Results.
Gavin S.

Eric did an awesome job.

Mallory H.

I would definitely refer them to others for any legal needs!

Amy Lee

He is very prompt with his responses to emails and phone calls which makes the process less stressful.

Dalisa

This was all so stress free. I'm extremely great full for Preston and his staff for putting forth all the time to help me out!

Bart

Highly recommend Eric and Preston without reservation. Their fees are more than reasonable and their service more than expected.

Nicolle G.

I have had an absolutely positive experience through and through with them. They're professional, empathetic, and ethical. I wish ...

Thomas M.

He handled all matters promptly and thoroughly. He cares deeply about his clients and makes sure their needs are fully understood.

Jared H.

All issues were handled in a very timely and transparent manner.

Bethany

He and his office were conscientious about my financial needs and made sure I knew when charges were going to be made, so it ...

Logan

I couldn't be more pleased with the results and would definitely recommend Eric to anyone looking for a fantastic lawyer and a ...

Sean K.

Working with Eric was a breeze. He addressed my concerns and laid out several options that were unique to my situation.

Robin S.

If it wasn't for Eric and Preston, I wouldn't have gotten custody of my 2 children.
Meet Our Team
Professional. Confident. Approachable.
Eric M. Swinyard

Founding Attorney

Keith L. Johnson

Attorney

Justin Stringfellow

Attorney
Experience the Difference
Experienced

The right attorney makes all the difference. Our attorneys are experienced, transparent and dedicated to your goals.

30-Min Consultation

We understand that you have questions, our Firm will provide you with a 30-minute no-obligation consultation with an Attorney.

Preparation

Family Law matters are complex; we ensure that all of our clients are thoroughly educated and prepared along the way.

Personalized Approach

No two cases are the same. Our Approach is tailored specifically to your goals.
Dedicated to Providing Personalized, High Quality Services
Take advantage of a 30-minute, no-obligation consultation by calling 801-515-4133 or completing the form in the link below.